Bike the Fix 50
Bike trains
Getting the word out
Park & Bike
Visit #bike916
Big DoG!
Come ride with us
Volunteer opportunities
May is when the Sacramento region celebrates bicycling for everyday travel. Visit the May is Bike Month website for information about how you can participate.
Bike the Fix 50
Despite fears about massive gridlock, the first phase of the Fix 50 project has been more manageable than expected. During the first 10 days of the Caltrans repairs on Capital City Freeway segments south of Midtown Sacramento, downtown traffic has been somewhat heavier, and we've seen a modest uptick in bike traffic.
This is a relief -- we've been concerned that massive traffic could pose unique challenges for bicycling that might discourage some first-time bike commuters during the start of May is Bike Month. To help prepare people on bikes to some of the likely impacts, we created a webpage called Bike the Fix 50.
We continue to encounter occasional, unannounced closures on 18th through 24th streets directly under the project area. This is a headache for northbound bike commuters who reach the detour location, and can't get to a street that's still open without riding on X or Broadway (which have lots of traffic but no bike lanes) or making a lengthy detour that could be avoided with better warning. We'll keep pushing Caltrans to tell us when and where streets will be closed, so we can notify people on bikes.
We don't think we've seen the worst of the traffic – so far the Fix 50 project hasn't involved closing freeway ramps. But on May 7, phase 2 begins with the closure of the eastbound 11th Street and 16th Street ramps at X Street, and the connector ramps from the eastbound Capital City Freeway to southbound Highway 99 and to eastbound Business 80 (toward Cal Expo). We expect to see significant traffic as drivers look for alternate routes around the closures.
Bike trains
Eager to start commuting by bike, but not sure where to start? Learn from the pros by taking a bike train from East Sac, South Sac or Midtown. Bike trains are friendly group rides to work led by experienced bike commuters on selected dates and times. This is your chance for some encouragement, solidarity and helpful advice -- and nobody gets left behind. Download a current schedule to find a train that works best for you. And if you don't find one in your area, join a Pedal Pool through the May is Bike Month website.
Getting the word out
With the start of the Fix50 project, we launched the SacBike Road Report, a Twitter account for sharing information about road and trail conditions. We think it offers a fast, easy way for anyone with a smartphone to share text, photos and video. If you use it to post or read road reports, please tell us what you think about it.
You can learn about SABA projects and perspectives on our website, Facebook, our main Twitter account, Instagram and Reddit.
Park & Bike
During May, Sacramento County Regional Parks makes it easy for you to park and bike from the Watt Avenue access on the American River Parkway. Additional weekday parking lot security at Watt Ave. makes it easier for people to drive part of the way to the parkway and ride their bike the rest of the way to work. It's another way to avoid the Fix50 traffic, especially for people who don't live close enough to the parkway to bike commute the whole way. The parking fee is $5 per day or $50 for an annual pass.
Visit #bike916
What does life in the Sacramento region look like from the perspective of someone who travels by bike? Starting this month, we turn over our Instagram account to a new guest curator each week – we're calling it Bike916. SABA Vice President Maya Wallace is our first guest curator. You can view Maya's posts and the entire series by looking for the hashtag #bike916.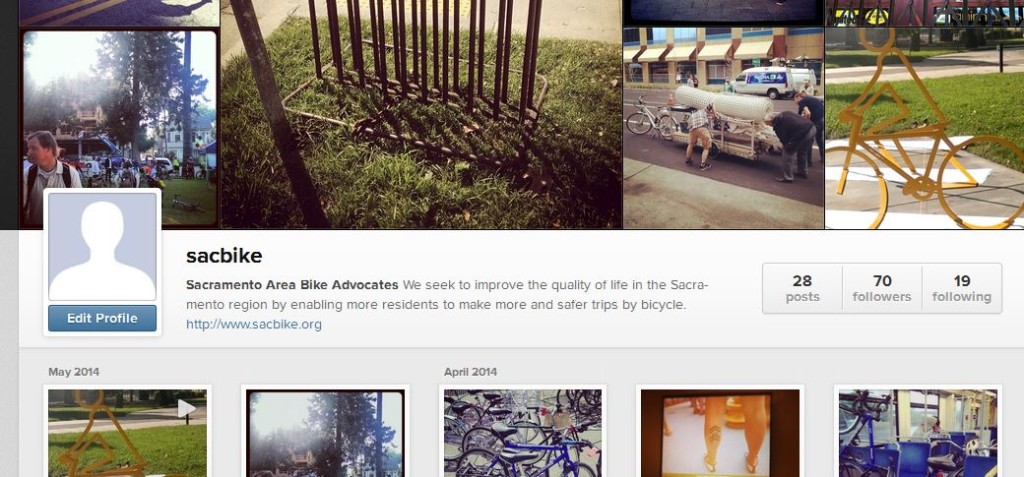 Big DoG!
On Tuesday, May 6, SABA joins nonprofits throughout the region for the Big Day of Giving, a 24-hour online fundraising event. If you've been thinking about supporting SABA, donating online next Tuesday could multiply the value of that support, thanks to the major donor matches will occur throughout the day. We'll spend Tuesday evening at Edible Pedal near L and 17th streets in Midtown. If you're in the neighborhood, please stop by to say hi, enjoy a snack and ask questions.
Come ride with us
Friendly group rides are a great way to meet bike-friendly people and explore your community. The rides we're organizing for spring and summer have something for almost everyone -- craft brewing, public art, historic sites, graffiti, urban farms and architecture are just some of the themes. (We're even planning an overnight ride.) Check our events calendar for upcoming rides, including these rides in May:
Sun., 5/4, 9 AM to noon: Concrete Thinking: Modern Architecture Tour
Modern architecture in downtown Sacramento from the 1950s to the 1980s, co-hosted with SacMod. Post-ride refreshment at the downtown tasting room of Ruhstaller Beer.
Sun., 5/18, 9:30 AM to 2 PM: A Ride to the Day on the Farm, Soil Born Farms
From East Sacramento to Soil Born Farms in Rancho Cordova along the American River Parkway for Soil Born's annual spring celebration.
Volunteer opportunities
Bike-friendly volunteers help extend our reach and help make our community a better place to live. We'd love to have you join us for Bike Valet at one of these upcoming events:
Fri 5/2: Friday Night Concerts in the Park, Chavez Park, Downtown Sacramento
Thurs 5/8: Capitol Bike Fest, State Capitol West Steps
Fri 5/9: Friday Night Concerts in the Park, Chavez Park, Downtown Sacramento
Fri & Sat 5/9-10: Bicycle Film Festival, Fremont Park, 16th & Q street, Downtown Sacramento
Sun 5/11: Amgen Tour of California, 10th and L streets, Downtown Sacramento
Fri 5/16: Friday Night Concerts in the Park, Chavez Park, Downtown Sacramento
Fri 5/16: Food Truck Mania in Garcia Bend Park, Sacramento
Sat 5/17: West Coast Brew Fest, Miller Park, Sacramento
Sat 5/17: Sacramento Republic FC, Hughes Stadium, Sacramento City College
Sun 5/18: A Day on the Farm, Soil Born Farms, Rancho Cordova
Earlier and later shifts are available at each event. To volunteer, contact us at volunteer@alectestsstuff.com. Visit our events calendar to learn more about upcoming events.