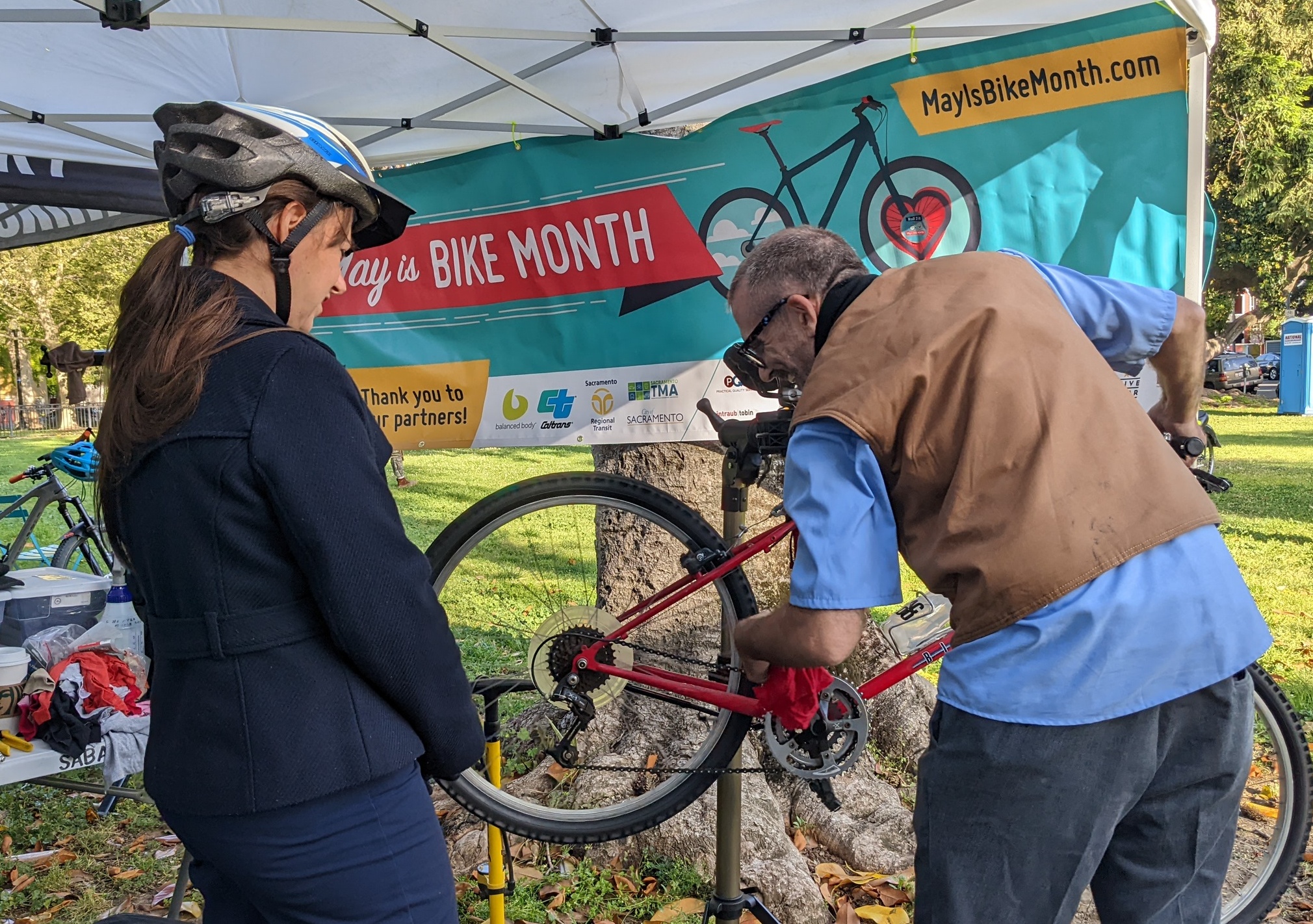 SABA broadens access to bicycles through hands-on education and bike repair. We operate a professionally staffed, free mobile bicycle repair and maintenance service for the greater Sacramento Region. Our mechanics have years of experience in providing quality repair services. This last summer, in North Natomas alone, we serviced over 900 bicycles. We hosted our "pop-up" clinics in residential and business complexes, schools, parks, and at a variety of community events.
Our clinics are by appointment with a limited number of walk-up appointments Reserve your spot at one of them here.

Do you have a client base that could use some bike repairs? Consider hosting a repair clinic. This could be apartment complexes, business parks, community events and fairs, to name just a few. Contact us today to find out just how inexpensive it is to provide this service to your community. Email mechanics@sacbike.org

Training Tomorrow's Mechanics
We are excited to offer a mechanic apprenticeship program for high-school-aged young adults. This new mechanic program will incorporate expert instruction from our own mechanics, text book and video content from the industry standard, Park Tool School, and the all-important, hands-on experience by working alongside our mechanics at our "pop up" repair clinics.
Following the successful completion of the program, these students will have the opportunity of a paid position with SABA's Ride Ready Repair Clinics. The costs associated with having to take your bike to a local bike shop for even basic repairs is beyond the economic means of many. Our hope is that these new bike mechanics will be inspired to start a no-cost community bicycle cooperative to service the under-resourced and economically challenged communities. Our post-program efforts will be focused on supporting these endeavors.


To apply for the program click HERE
Why we do it
Having affordable, accessible, safe, and reliable transportation to deliver or receive essential goods and services or for simply getting to and from the workplace or crucial medical appointments is of utmost importance. SABA's bike repair program will help ensure that all people, regardless of race, creed, gender, age, orientation, and economic status have access to free bike safety and repair services.
By working with Sacramento's elected officials and community leaders, SABA aims to meet the specific and unique needs of each community that has historically been underserved and economically challenged.
The bicycle has a unique and profound way of bringing a diverse group of people together, united in a common goal: safer streets for pedestrians and cyclists and a healthy community. SABA will be there to keep the wheels rolling toward a happier, safer and healthier Sacramento.