Better bicycling on the American River Parkway
Sacramento embraces Vision Zero
New hires
Supporting SABA
Bike shorts
Better bicycling on the American River Parkway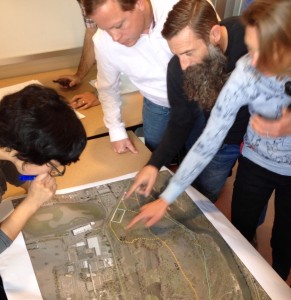 Sacramento County Parks is implementing a 3-year pilot program to allow off-pavement bicycling in the Woodlake and Cal Expo areas of the American River Parkway. The pilot program is contained in the American River Parkway Plan, which governs parkway operations west of Hazel Ave. (California State Parks administers the parkway east of Hazel.)
In February the American River Parkway Advisory Committee hosted a public hearing to solicit comments on the proposed implementation plan. Revisions to that proposed plan are now being circulated for public comment through April 20.
Meanwhile, SABA board member Chris Shultz has been appointed to a seat on the American River Parkway Advisory Committee. Chris is an all-around rider – road cycling, bike commuting, family riding, cyclocross and mountain biking – and he knows the parkway. He was formerly chief of staff to then-Assemblymember (now California Insurance Commissioner) Dave Jones, who carried the 2008 legislation that created the American River Parkway Plan.
Sacramento embraces Vision Zero
Four people on bikes have died in traffic collisions in our region in the past six months. The Sacramento City Council recently directed City staff to implement a Vision Zero policy to prevent traffic deaths. We're partnering with WALKSacramento to develop a model Vision Zero policy for the South Sacramento neighborhoods where most of the city's fatal bike and pedestrian collisions occur. Read more here.
New hires
We're pleased to introduce new members of SABA's team: Bike Valet Manager Aaron Curtin, Volunteer & Community Engagement Manager Erin Healy, and Bike Doc Manager Michael Claudio.
Aaron lives in Davis, where he owns Apex Cycles & Service. His duties at SABA involve managing our most visible program, including a team of nine Bike Valet Leads. Last year Bike Valet staff and volunteers parked 15,000 bikes at 167 events.
Erin recently retired as Operations and Program Chief for the California Conservation Corps, where she began her career as a corpsman. At SABA Erin manages volunteer recruitment, orientation and recognition, and community engagement activities such as trail clean-ups and bike theft prevention.
Michael is a cycling coach and personal trainer with a background in healthcare administration. He manages the team of mechanics who work for the North Natomas Transportation Management Association's Bike Doc program.
We've also recently hired Bike Valet Lead Pilar Medina and Bike Doc mechanics Glenn Small, Chris Stastny, Dennis King, Rich Hendricks and Andreas Castellanos.
Supporting SABA
We depend on support from individuals like you so we can advocate for better conditions for bicycling in our region. Right now we're involved with several fundraising campaigns that will help support our work.
The Big Day of Giving is an annual 24-hour online fundraising challenge on Tues., May 3. SABA is one of nearly 600 local nonprofit organizations taking part. You'll start hearing more about how to participate in the coming weeks.
SABA board members Mel Melvin and Ryan Sharpe are taking part in Climate Ride California from Fortuna to San Francisco, May 22-26. Like the rides organized to benefit disease research, this ride benefits organizations like SABA that work on behalf of clean air and environmental stewardship. Read about how to support (or join) Mel and Ryan.
This month the Sacramento Natural Foods Co-op is conducting a vote to select recipients of its bag token program and SABA is a nominee. If you shop at the Co-op and use your own bag, you receive a token you can direct to one of several nonprofits. The Co-op gives 5 cents per token to each recipient, typically $200-300 a month. Cast your vote for SABA by Apr. 22! (You don't have to be a Co-op shopper to vote).
Bike shorts
Supporters of a plan to accommodate bikes on the El Dorado Trail, a former Southern Pacific Railroad line between Folsom and Placerville, are circulating a petition to the El Dorado County Board of Supervisors about the local economic benefits of allowing bikes on the entire trail.
Registration is now open for May is Bike Month. When you register, you're eligible for prize drawings (socks!) and online badges.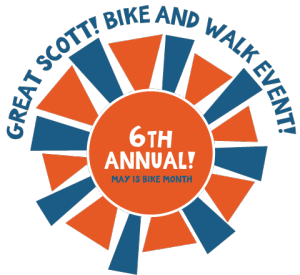 Kick off May is Bike Month on Sunday, May 1 with the Great Scott! Bike and Walk Event on 30 miles of car-free roads on the east side of Sacramento County, including Scott Road south of US 50.
Also on May 1, North Natomas Transportation Management Association hosts the Know Your Spine Trail Ride. Explore the newly completed off-street path that connects Airport Road near San Juan Road and I-80 with Elkhorn Blvd.