Better bicycling on the American River Parkway
Sacramento embraces Vision Zero
New hires
Supporting SABA
Bike shorts
Better bicycling on the American River Parkway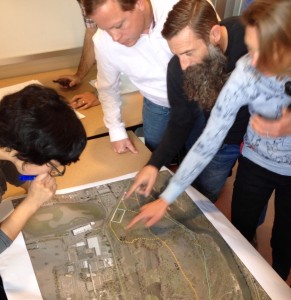 Sacramento County Parks is implementing a 3-year pilot program to allow off-pavement bicycling in the Woodlake and Cal Expo areas of the American River Parkway. The pilot program is contained in the American River Parkway Plan, which governs parkway operations west of Hazel Ave. (California State Parks administers the parkway east of Hazel.)
In February the American River Parkway Advisory Committee hosted a public hearing to solicit comments on the proposed implementation plan. Revisions to that proposed plan are now being circulated for public comment through April 20.
Meanwhile, SABA board member Chris Shultz has been appointed to a seat on the American River Parkway Advisory Committee. Chris is an all-around rider – road cycling, bike commuting, family riding, cyclocross and mountain biking – and he knows the parkway. He was formerly chief of staff to then-Assemblymember (now California Insurance Commissioner) Dave Jones, who carried the 2008 legislation that created the American River Parkway Plan.
Sacramento embraces Vision Zero
Four people on bikes have died in traffic collisions in our region in the past six months. The Sacramento City Council recently directed City staff to implement a Vision Zero policy to prevent traffic deaths. We're partnering with WALKSacramento to develop a model Vision Zero policy for the South Sacramento neighborhoods where most of the city's fatal bike and pedestrian collisions occur. Read more here.
New hires
We're pleased to introduce new members of SABA's team: Bike Valet Manager Aaron Curtin, Volunteer & Community Engagement Manager Erin Healy, and Bike Doc Manager Michael Claudio.
Aaron lives in Davis, where he owns Apex Cycles & Service. His duties at SABA involve managing our most visible program, including a team of nine Bike Valet Leads. Last year Bike Valet staff and volunteers parked 15,000 bikes at 167 events.
Erin recently retired as Operations and Program Chief for the California Conservation Corps, where she began her career as a corpsman. At SABA Erin manages volunteer recruitment, orientation and recognition, and community engagement activities such as trail clean-ups and bike theft prevention.
Michael is a cycling coach and personal trainer with a background in healthcare administration. He manages the team of mechanics who work for the North Natomas Transportation Management Association's Bike Doc program.
We've also recently hired Bike Valet Lead Pilar Medina and Bike Doc mechanics Glenn Small, Chris Stastny, Dennis King, Rich Hendricks and Andreas Castellanos.
Supporting SABA
We depend on support from individuals like you so we can advocate for better conditions for bicycling in our region. Right now we're involved with several fundraising campaigns that will help support our work.
The Big Day of Giving is an annual 24-hour online fundraising challenge on Tues., May 3. SABA is one of nearly 600 local nonprofit organizations taking part. You'll start hearing more about how to participate in the coming weeks.
SABA board members Mel Melvin and Ryan Sharpe are taking part in Climate Ride California from Fortuna to San Francisco, May 22-26. Like the rides organized to benefit disease research, this ride benefits organizations like SABA that work on behalf of clean air and environmental stewardship. Read about how to support (or join) Mel and Ryan.
This month the Sacramento Natural Foods Co-op is conducting a vote to select recipients of its bag token program and SABA is a nominee. If you shop at the Co-op and use your own bag, you receive a token you can direct to one of several nonprofits. The Co-op gives 5 cents per token to each recipient, typically $200-300 a month. Cast your vote for SABA by Apr. 22! (You don't have to be a Co-op shopper to vote).
Bike shorts
Supporters of a plan to accommodate bikes on the El Dorado Trail, a former Southern Pacific Railroad line between Folsom and Placerville, are circulating a petition to the El Dorado County Board of Supervisors about the local economic benefits of allowing bikes on the entire trail.
Registration is now open for May is Bike Month. When you register, you're eligible for prize drawings (socks!) and online badges.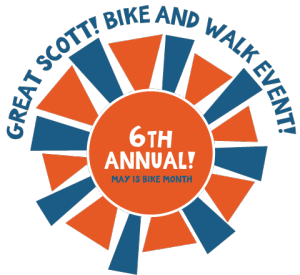 Kick off May is Bike Month on Sunday, May 1 with the Great Scott! Bike and Walk Event on 30 miles of car-free roads on the east side of Sacramento County, including Scott Road south of US 50.
Also on May 1, North Natomas Transportation Management Association hosts the Know Your Spine Trail Ride. Explore the newly completed off-street path that connects Airport Road near San Juan Road and I-80 with Elkhorn Blvd.
Velo Ball 2015 is Friday, Oct. 16
Promising changes at Sacramento City Hall
Draft sidewalk riding ordinance headed to Sacramento City Council
Bike shorts
Get involved
Velo Ball 2015 is Friday, Oct. 16
Velo Ball, our big annual fundraising party, returns to Beatnik Studios near Southside Park in downtown Sacramento on October 16. We'll be serving a delicious cocktail-party menu from the acclaimed South, along with local beer, cider and wine. The highlight will be a silent auction featuring bikes and accessories, unique experiences, and locally made treasures, including a Yuba Mundo cargo bike, a Mendocino vacation getaway, Oregon Shakespeare Festival tickets, an Urban 800 Commuter Combo light set from Light & Motion and bike accessories from Rivendell Bicycle Works. That's just the start.
The funds we raise at Velo Ball help support our work to improve the quality of life in our region by making travel by bike safer and more convenient.
Advance tickets are on sale now through Oct. 2 for $50 (which includes the new SABA Klean Kanteen beer pint) and $40. Prices go up after Oct. 2.
We can't say thank you enough to Teichert Construction, North Natomas Transportation Management Association, Regional Transit, Alta Planning + Design and Bike Hub for helping make this event possible! Thank you again! Sponsorship opportunities are still available – contact us for information on how your business can participate.
(Can't attend the party? You can still enjoy supporting our mission by making a donation.)
Promising changes at Sacramento City Hall
We're seeing some changes at the City of Sacramento that could help make travel by bike safer and more convenient for more people. Over the past several years, the City's progress on improving conditions for bicycling has come to a near-standstill and the rate of bicycle commuting among Sacramentans remains flat, even as bicycling continues to boom in other major U.S. cities.
Earlier this year we convinced the Transportation Dept. to hire a consultant to help complete the first major update of the City's bicycle master plan in nearly 20 years, a project that was only half-completed during the two years since it was launched. The consultant has been chosen and the contract is currently being negotiated.
Following a highly critical Sacramento Bee commentary about inadequate conditions for bicycling in the Central City and a response from us in early July, the City's bicycle-pedestrian coordinator was reassigned, and at our urging, the position has been upgraded to management level, which could help improve its effectiveness. Hiring will begin later this month.
But Sacramento still has a long way to go to catch up to the progress being made in other large bike-friendly cities like Minneapolis, Seattle, Portland, Washington, D.C., San Francisco and Oakland that devote considerably more resources to bicycle transportation. Improving the quality of bikeway planning and infrastructure remains a top priority for SABA.
Draft sidewalk riding ordinance headed to Sacramento City Council
Later this fall the Sacramento City Council will be asked to revise its ordinance governing bicycling on sidewalks as the first step toward restricting sidewalk riding in areas with high concentrations of pedestrians.
The changes are prompted by a $3.5M claim brought against the City of Sacramento by a pedestrian who was badly injured in a sidewalk collision with a bicyclist on a downtown street in May 2014.
The hazards to pedestrians are real, but incidents like this one remain extremely rare. Sacramento Police Dept. data show that from 2008 through 2012, 927 pedestrians were hit by cars in Sacramento, including 372 in the downtown grid. During that period, 3 pedestrians were hit by bikes, all in neighborhoods outside of the grid.
State law leaves the regulation of bicycling on sidewalks to local government. Sacramento's sidewalk riding ordinance currently allows bicycling on residential sidewalks but not in commercial neighborhoods. The City of Sacramento has done little to help people find bike lanes and avoid sidewalks where riding is prohibited.
We've ensured that the discussion stays focused on the role that hazardous traffic conditions play in causing most sidewalk riding in downtown Sacramento. WALKSacramento has been a strong ally in helping make the case for safer streets for bicycling as the key to safeguarding pedestrians. Data from other large U.S. cities show that installing protected bike lanes can dramatically reduce the rate of sidewalk riding.
We continue to remind City officials that punishing people on bikes for trying to avoid roadway hazards is bad policy so long as the City fails to improve conditions for bicycling on the street. The current update of the citywide bicycle master plan and the results of the ongoing Downtown Transportation Study provide two opportunities to begin correcting the deficiencies in downtown streets and should be put into effect before a crackdown on bicyclists begins.
Bike shorts
Davis is home to the nation's first Dutch-style protected intersection, located at E. Covell Blvd. and J Street. The design provides a safer alternatives for people on bikes who are turning left off E. Covell, a busy four-lane boulevard.
Kudos to our friends in Rancho Cordova for being named a bronze-level Bicycle Friendly Community by the League of American Bicyclists! The honor recognizes the significant investment in infrastructure, policies and programs to support bicycling made by City leaders and staff as well as groups like Bicycling Advocates for Rancho Cordova and the 50 Corridor Transportation Management Association.
This summer West Sacramento was awarded the region's only cap-and-trade grant for a riverfront project that joins affordable housing and transportation improvements. The West Gate Place project near Raley Field is just one of 28 projects statewide to receive state funding intended to ensure that new housing reduces reliance on driving. The project site is adjacent to a proposed network of protected and buffered bike lanes along the West Sacramento waterfront that will make travel by bike safer and more convenient.
The Advancing Bicycling in the Capital Region workshop, on Weds., Sept. 23 at the Sheraton Grand Hotel in downtown Sacramento, will bring together national experts, community leaders, business owners and advocates to explore opportunities for making the region a friendlier place for bicycling. Tickets are still available -- don't miss this chance to be part of an important conversation. SABA will provide free valet bike parking during the event.
Get involved
On Thursday, Sept. 17, 4-6 PM, we'll be conducting a quarterly bike count throughout the greater Central City and we could use more volunteers. We have more than 30 count locations we've returned to over the past seven years – having enough help is crucial to generating good data. We provide the forms and instructions, and training if needed. To volunteer, contact us at volunteer@alectestsstuff.com.
Help us make the American River Parkway a cleaner place to ride as part of the Great American River Clean-Up on Saturday, Sept. 19. We'll be collecting trash and debris along the Sacramento Northern Bike Trail (AKA Blue Diamond Trail) on the south side of the river near the Blue Diamond plant in Midtown. Bring sturdy shoes and work gloves. We'll provide tools, trash bags and snacks. To lend a hand, send an email with "GARCU" in the subject line to volunteer@alectestsstuff.com.
The upcoming TBD Fest, Sept. 18-20, is our largest Bike Valet event of the year. Last year we parked 1,200 bikes at TBD Fest and this year could be bigger! Join a fun crew and enjoy lots of music (of course) by volunteering. We have multiple shifts available. Contact us at volunteer@alectestsstuff.com.
Special Velo Ball Edition
Food & drink | Silent auction | Music | Tickets | Volunteers | Sponsors
We're almost ready for the year's best and biggest party for everyone who loves what bicycling does for our community. Join us to celebrate Dia de Los Muertos this Saturday, Nov. 1, 6-9:30 PM at Beatnik Studios in downtown Sacramento. Tickets are still available. Click here to buy yours right now.

Food & drink
The ambience will be casual cocktail party, with great Mexican street food by Florez Bar & Grill in South Land Park. The buffet menu will include street tacos, tostadas, tamales, flautas, slider-style tortas and more, including freshly made churros for dessert. The menu includes vegan options. The Florez crew will be set up under tents outside the entrance to Beatnik Studios to keep the food flowing.
Bike Dog Brewing, Two Rivers Cider and Cabana Winery will be pouring at the hosted bar. We'll also be serving Mexican Coca-Cola, waters, and other non-alcoholic beverages, including free fresh coffee from Insight Coffee Roasters. Your Velo Ball ticket comes with two drink tickets, and additional drink tickets will be on sale at the party.
Silent auction
Our silent auction may be the best yet, with bikes and bike accessories, bike experiences, health and fitness packages, home and garden items, travel destinations, restaurant packages, original artworks and more, including the amazing Smokin GrOven woodfired smoker/grill/oven. Spinlister and Pure Fix Cycles are donating a Pure Fix fixie of your choice. Click here to see more about the silent auction.
We make bidding really simple: Just write your name and bid amount on the bid sheet next to the item you want. Each item has a minimum bid amount, to start things rolling. And each item has a "Buy It Right Now" price, in case this is something you just can't let get away.
The winning bidder is the last name on the list when the auction section closes, or the person who pays the Buy It Right Now price – our auction helpers will be keeping track. You can pay for your item with cash, check or credit card at the auction cashier window.
Before the evening is over, we'll raffle off some special gift items, including an Origin-8 F7 folding bike from Natomas Bike Shop. Raffle tickets are $20 for a set of 10 and are available at the door and at the auction checkout window.
Music
Larry Rodriguez DJs regularly at the Press Club in Midtown, and he also provides the music at the annual Appetite Enhancement on Thanksgiving Day. He'll help set the right mood and get people moving once the silent auction is over.
Tickets
Individual tickets are $50 and include two drink tickets (additional drink tickets will be on sale). Tickets for parties of 8 are $400 and also include two drink tickets per person.
Advance ticket purchasers simply show their ticket at the door – no waiting! Tickets may be purchased at the door with cash, check or credit card. Click here to purchase your tickets right now.
And if you can't attend, but like the idea of supporting our mission, please feel welcome to make a donation.
Volunteers
So many people are helping us make this party happen! We can't thank you enough! And we could still use a few more hands during the daytime set-up. If you can help out, please contact us ASAP at volunteer@alectestsstuff.com. We're providing lunch for everyone from Shine Café in downtown Sacramento, among other treats. All volunteers get free admission to the party.
We couldn't put on Velo Ball without these organizations, businesses and individuals committed to a bike-friendly future for the Sacramento region:
SILVER
North Natomas Transportation Management Association

BRONZE
Alta Planning + Design
Kittelson & Associates Inc.
Sacramento City Councilmember Steve Hansen
Sacramento City Councilmember Steve Cohn
Sacramento Regional Transit
IN-KIND
Beatnik Studios
Bike Dog Brewing Company
Two Rivers Cider
Capital Public Radio
Insight Coffee Roasters
Cabana Winery & Bistro